One of my best things to have in the morning is these Blueberry Muffins With Streusel Topping. Blueberry muffins became a favorite of mine when I was in the UK and my sister would take me out for brunch at M&S. I remembered it to be moist, not too sweet and of course the perfect crumbly topping that makes the muffin quite memorable.
But… I put a spin on mine by incorporating a crumbly top layer on the Blueberry Banana Muffins. I have baked these a few times but today, I deiced to bring out my camera and get baking! I thought, it was about time I shared this recipe. The Best Blueberry Muffins you'll ever bake!
These blueberry muffins with crumb topping are moist, light, and delicious. Honestly one of the easiest things to bake and you'd agree with me once you give it a try.
What is Streusel Topping Made Of?
A streusel is a German pastry made with 4 ingredients; fat, sugar, flour, and cinnamon. You make the streusel by combining equal parts flour and sugar, a few tablespoons of butter, a splash of milk, and cinnamon (scroll to my recipe list and instructions to see measurements).
The streusel pastry should just be crumbly and a little bit moist. Then crumbly and crunchy when baked and cooled off. Streusels are great as a top layer on muffins, dessert bars, pies, and cakes. Unused streusel will keep well in the fridge as well for up to 2 weeks.
Type Of Blueberries To Use For These Muffins
You can make these blueberry muffins with fresh or frozen blueberries. Both types of blueberries can produce a slightly different result. Frozen blueberries will work for this recipe as well. Just make sure to thaw them out, rinse, and make sure they're dry before adding them into the muffin batter. An additional tip is to coat the blueberries in flour. This sometimes helps prevent them from sinking to the bottom of the batter.
How Do You Keep Streusel Topping Crunchy?
What I do to get a crunchy streusel topping on my muffins is allow them bake for an added 3 – 4 minutes or till they have a tint of golden-brown color. Also, allow the muffins cool off completely. The streusel will get even crunchier after that. If your crumble topping is not crunchy, that may be an indication that you did not add enough butter. Allow the blueberry muffins with streusel topping cool completely before storing.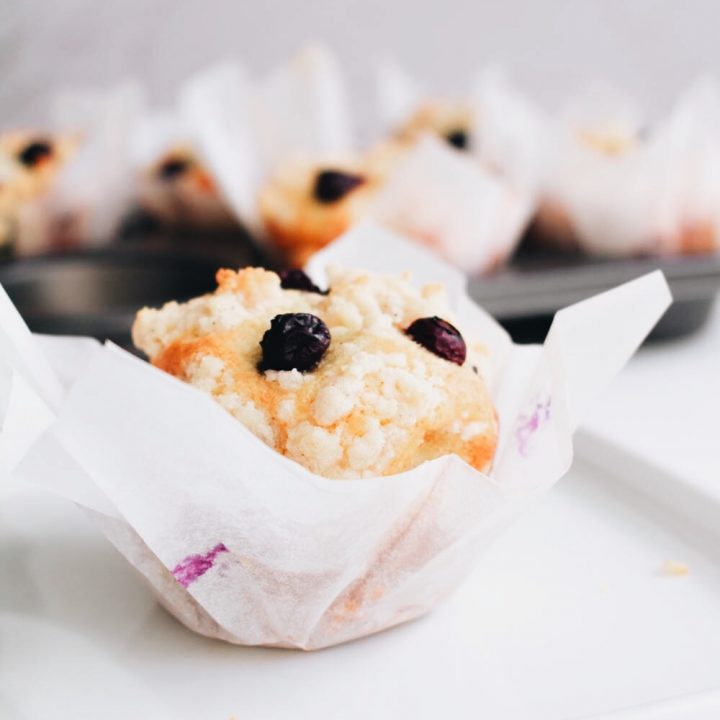 Fluffy Blueberry Muffins With Streusel
Moist Blueberry Muffins with crumbly and crunchy Streusel topping. This makes a perfect breakfast muffin and also a perfect choice for breakfast on the go!
Ingredients
For The Muffins
2 cups Fresh Blueberries 
1/2 cup Butter, room temperature
1 cup White Sugar
2 large Eggs, room temperature
2 tsp Baking Powder
1/2 tsp Salt 
1 tsp Vanilla Extract
2 cups All-Purpose Flour
1/2 cup Milk
For The Streusel
3/4 cup All-Purpose Flour
3/4 cup White Granulated Sugar
1 tsp Cinnamon Powder
3 tbsp Milk, cold
1/4 cup Butter, cold
Instructions
Preheat the oven to 400 degrees F. Line a muffin tin with paper liners and set that aside.
The first thing to do is make the streusel crumb topping. Whisk to combine the sugar, flour, and cinnamon, then add the cold butter. Work all of the ingredients together with your fingertips, until it forms a bunch of crumbs and clumps. Add the milk and stir to distribute the liquid. Chill in the fridge until ready for use.
Cream together butter and sugar for about two minutes in a mixer.
Beat in eggs one after the other until combined. Add in the baking powder, salt, and vanilla and mix briefly.
Add in half of flour, mix with hand mixer until just combined, then add in half of the milk. Scrape the bottom and sides of the bowl and add in the remaining flour and milk, mixing in between additions.
Add the blueberries to the batter and use a rubber spatula to gently fold them in.
Divide the batter up amongst the 12 muffins. Sprinkle a generous amount of streusel on each muffin.
Bake in the preheated oven for 20 - 25 minutes, or until a toothpick inserted into the center comes out clean.
Let it cool in the pan for 5 minutes before transferring to cooling rack to cool completely.
Notes
1. Frozen blueberries will work for this recipe as well. Just make sure to thaw them out, rinse, and make sure they're dry before adding them into the muffin batter.
2. Leftover streusel pastry can keep well up to two weeks in a refrigerator.
Nutrition Information:
Yield:

12
Serving Size:

1
Amount Per Serving:
Calories:

354
Total Fat:

13g
Saturated Fat:

8g
Trans Fat:

0g
Unsaturated Fat:

4g
Cholesterol:

63mg
Sodium:

290mg
Carbohydrates:

56g
Fiber:

1g
Sugar:

32g
Protein:

5g
Nutrition information isn't always accurate.