This Virgin Mojito is a refreshing mocktail that beautifully combines zesty lime juice with the essence of fresh mint. It's the perfect mocktail to brighten any occasion. Crisp, cool, and incredibly easy to make, it's the ideal non-alcoholic drink for those seeking a burst of pure, rejuvenating flavor.
Mojitos are known for their refreshing and zesty flavors, making them a popular choice for those looking to quench their thirst on a hot summer day. Traditionally made with rum, the virgin mojito offers the same vibrant combination of flavors without the alcohol, making it suitable for all ages and occasions. Let me show you the art of making the perfect virgin mojito. From the selection of ingredients to serving options and customizations, you'll be ready to make your very own delightful and alcohol-free version of this classic Cuban cocktail.
Why You'll Love This Recipe
The virgin mojito is more than just a non-alcoholic alternative to the classic cocktail. It's a beverage that boasts several key attributes, which are sure to make you fall in love with this recipe:
Its refreshingly cool. This mojito mocktail offers the most refreshment in a drink. With a balance of citrusy limes and the captivating essence of mint, it's perfect for beating the summer heat.
It's family-friendly. This drink recipe is Ideal for those who prefer to avoid alcohol, this drink is suitable for kids and anyone who wants to enjoy a delicious beverage without the buzz.
Simple and quick. This recipe is easy to prepare and takes only a couple of minutes. No need for complex mixology skills or hard-to-find ingredients.
Highly customizable. You can easily adjust the sweetness and tartness to match your taste preferences. There's also a variety of customization options for mojitos.
Ingredients for Virgin Mojito
Below is the list of all essential ingredients you need to gather for this drink:
Lime: The lime provides the tangy and citrusy flavor that's characteristic of a Mojito. It's the primary source of acidity and brightness in the drink.
White Granulated Sugar: it adds more sweetness to balance the tartness of the lime. It also plays a crucial role in muddling, as it helps release the essential oils from the mint and lime.
Mint Leaves: Fresh mint leaves contribute a burst of refreshing and aromatic flavor. They also provide a delightful fragrance to the drink and give it that signature Mojito aroma.
Sparkling Water: it provides fizziness to the drink, giving the mocktail its characteristic bubbly-ness.
Sprite: for added lemon-lime flavor and fizz.
Ice Cubes: Ice not only chills the drink but also dilutes it to achieve the desired strength and texture. It's essential for serving a cold, thirst-quenching beverage.
Garnishes (Lime Slices and Mint Sprigs): These garnishes serve both an aesthetic and aromatic purpose. They make the drink look more appealing while adding an extra layer of lime and mint fragrance when you bring the glass to your lips.
Substitutions
While the ingredients are fairly straightforward, there is room for substitutions if you have dietary restrictions or prefer variations. Here are some suggestions:
Sweeteners: Instead of granulated sugar, you can use honey, agave nectar, or simple syrup. Adjust the quantity to achieve your desired sweetness level.
Limes: If you don't have fresh limes, you can use bottled lime juice, but fresh is always preferable for the best flavor.
Sparkling Water: In place of sparkling water, you can use plain club soda or other lemon-lime soda.
Step-by-Step Instructions
Now, let's dive into the process of making a refreshing virgin mojito:
Prepare Your Ingredients. Gather all the ingredients on your workspace. Cut the limes into wedges and measure the sugar and club soda as per the number of servings you intend to make.
Muddle the limes, mint and sugar. In a glass or cocktail shaker, place the lime wedges and fresh mint leaves. Using a muddler or the back of a spoon, gently crush the mint leaves and limes to release their flavors. Be careful not to over-muddle, as it can make the drink bitter.
Stir the sugar into the lime and mint mixture until it begins to dissolve. This creates a syrupy base for your drink.
Fill the glass with ice cubes. The ice not only chills the drink but also dilutes it slightly, making it less intense.
Top with sparkling water. Pour the club soda or sparkling water over the ice and lime-mint mixture. Leave some room at the top for garnishes and further stirring.
Garnish. Place a few slices of lime and a sprig of fresh mint on top of the drink. These garnishes enhance the visual appeal and aroma of your virgin mojito.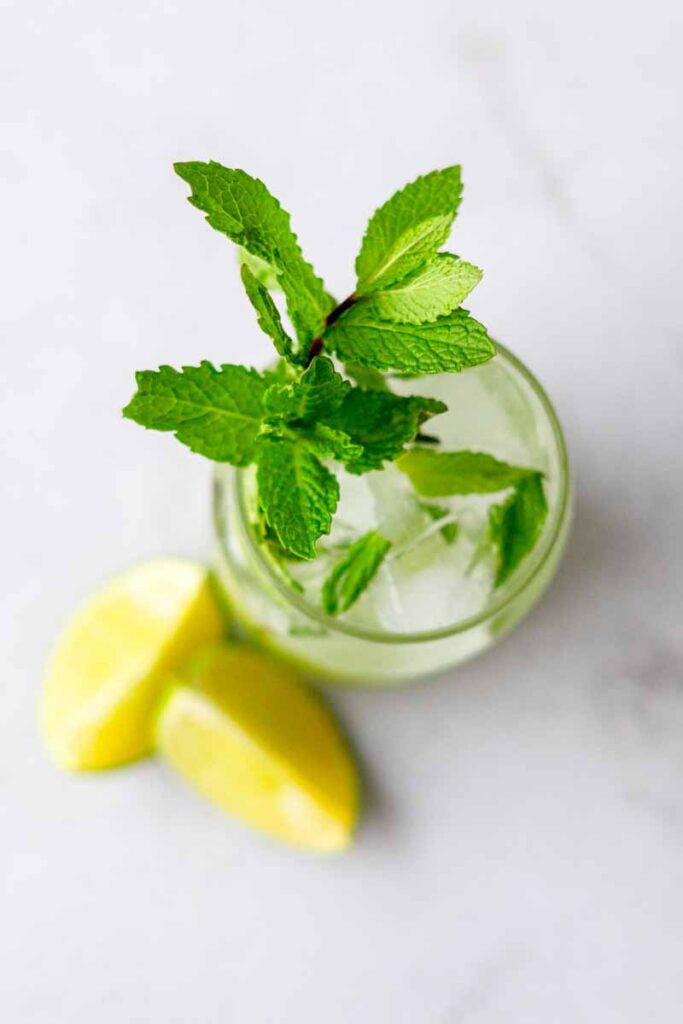 Give the mojito a gentle stir to combine all the ingredients. Remember not to agitate it too vigorously; a light stir is sufficient.
Recipe tips and tricks
Use fresh limes and mint leaves for the best flavor. Stale or dried-out ingredients won't deliver the same results.
Adjust the sugar to your taste. Start with less and add more as needed. You can also use alternative sweeteners.
Good ice quality is important. Use clean, odorless ice to avoid any unwanted flavors in your drink.
A well-garnished virgin mojito not only looks beautiful but also enhances the aroma and overall experience.
Invest in a muddler for proper muddling of the lime and mint. It extracts the essential oils without tearing the mint.
Feel free to experiment with different variations and combinations. Mojitos are all about personal preferences.
Serving Options
The virgin mojito is a versatile drink that can be served in various ways to suit different occasions. Here are some serving options:
Single servings: Serve your drink in a tall glass to showcase its vibrant colors and garnishes.
For a crowd: Pitcher: Prepare a large batch of mojito in a pitcher and let guests serve themselves. This is perfect for gatherings and parties.
For a rustic and trendy touch, use mason jars as your serving vessels. They add a quaint charm to the presentation.
Make freeze pops! Turn your virgin mojito drink into fun and creative ice pops by pouring the mixture into popsicle molds and freezing it.
Variations and Customization
While this mojito recipe is a delightful drink in its own right, you can experiment with a range of variations and customizations to suit your taste:
Add fresh fruit, such as strawberries, raspberries, or pineapple, to your virgin mojito for a fruity twist. Muddle the fruit along with the lime and mint for extra flavor.
Try using different herbs like basil or cilantro instead of, or in addition to, mint for a unique flavor profile.
A splash of ginger ale or a few slices of fresh ginger can give your virgin mojito a spicy kick.
For those who enjoy a bit of heat, muddle a slice of jalapeño with the lime and mint. Be cautious; it can get quite spicy!
FAQs about Virgin Mojito
Can I prepare the virgin mojito in advance for a party?
Yes, you can make a larger batch in advance, but it's best to add the club soda just before serving to maintain its fizziness.
Can I make a sugar-free virgin mojito?
Absolutely! You can use a sugar substitute like Stevia or Monk Fruit sweetener to make it sugar-free.
What dishes pair well with a mojito?
Virgin Mojitos complement a wide range of dishes, but they are particularly refreshing alongside light and spicy foods like summer salads, ceviche, or Mexican cuisine.
This drink is a versatile and delightful beverage that offers all the refreshing qualities of its alcoholic counterpart without the buzz. With simple ingredients and easy preparation, it's a crowd-pleaser for any occasion.
Whether you prefer the classic recipe or want to experiment with variations, this non-alcoholic gem is a fantastic addition to your drink repertoire. So, why not give it a try and savor the tangy, minty, and sweet flavors of the virgin mojito? Please leave a comment below if you try this.
More mocktail recipes garnished with mint:
Virgin Mojito (Mojito Mocktail)
This Virgin Mojito is a refreshing mocktail that beautifully combines zesty lime juice with the essence of fresh mint. It's the perfect mocktail to brighten any occasion. Crisp, cool, and incredibly easy to make, it's the ideal non-alcoholic drink for those seeking a burst of pure, rejuvenating flavor.
Ingredients
:4 limes, cut into wedges
1/4 cup of granulated sugar (adjust to taste)
24-32 fresh mint leaves
2 cups of sprite
2 cups sparkling water
Ice cubes
Lime slices and fresh mint sprigs for garnish
Instructions
Start by placing the fresh mint leaves, lime and sugar in a sturdy glasses.
Use a muddle or the back of a spoon to gently muddle (crush) the mint leaves, lime and sugar together. This helps release the mint's juices, essential oils and flavors.
Fill the glasses with ice cubes. This will keep your Virgin Mojito nice and cold.
Stir the mixtures to dissolve the sugar and combine the lime juice and mint leaves thoroughly.
Top off the glasses with sprite and sparkling water to your desired level. Stir again gently to mix everything together.
If you like, you can garnish your mojito with a sprig of fresh mint and a lime wedge. This not only adds to the presentation but also enhances the aroma and flavor.
Notes
Make sure to use fresh ingredients to get the best drink.
Nutrition Information:
Yield:

4
Serving Size:

1
Amount Per Serving:
Calories:

207
Total Fat:

1g
Saturated Fat:

0g
Trans Fat:

0g
Unsaturated Fat:

1g
Cholesterol:

0mg
Sodium:

56mg
Carbohydrates:

53g
Fiber:

11g
Sugar:

33g
Protein:

5g
Nutritional information is provided as a courtesy only and should be construed as an estimate rather than a guarantee. Ingredients can vary and Kitchen On The Avenue makes no guarantees to the accuracy of this information.