Creamy Mushroom Risotto – this indulgent creamy recipe is full of earthy flavors derived from sautéed mushrooms and silky buttery texture.
When you feel like having some Italian meal at home but just don't have the time to go out for one. This quick Creamy Mushroom Risotto recipe is one to reach for. It tastes indulgent, is silky in texture and all you need is just picture yourself at your favorite Trattoria or Italian town.
What Is Risotto?
Risotto is a popular Italian rice dish cooked with broth and/or wine until it reaches a creamy consistency. It is made with a special rice called Arborio. This rice is very starchy and contributes to how the risotto get its creamy consistency. You can use meat, chicken or fish broth to give flavor to risotto and add proteins and vegetables like mushrooms, chicken, shrimps and truffles.
Ingredients You'll Need For Mushroom Risotto
Arborio Rice – a special starchy Italian rice
Cremini Mushrooms – baby Portobello mushrooms with closed caps
Garlic Clove
Chicken Broth – for flavor
Grated Parmesan Cheese
Onion
Olive Oil
Butter
How To Fix Sticky Risotto
If your risotto becomes sticky and thick, add a bit more stock and keep stirring till most of the stock has been absorbed. Remember to add a little bit of stock at a time to avoid it becoming soupy.
How To Store Mushroom Risotto
Risotto is best served fresh when it's hot and creamy but gets thicker as time passes. However, if you have some leftovers, it will keep in the refrigerator for a day or two. To revive risotto back into it's original consistency, reheat it on the stove top with a splash of water or broth on low heat till it's soft again.
Tips To Make Risotto Perfectly
Do not wash Arborio rice. This rice needs all of it's starch component to produce the creamy consistency we all love about risotto.
Don't forget to stir as often as possible. It will easily stick to the bottom of the pan if abandoned for too long.
Have all your ingredients prepped and ready. Cooking this recipe goes so fast and needs a lot of attention.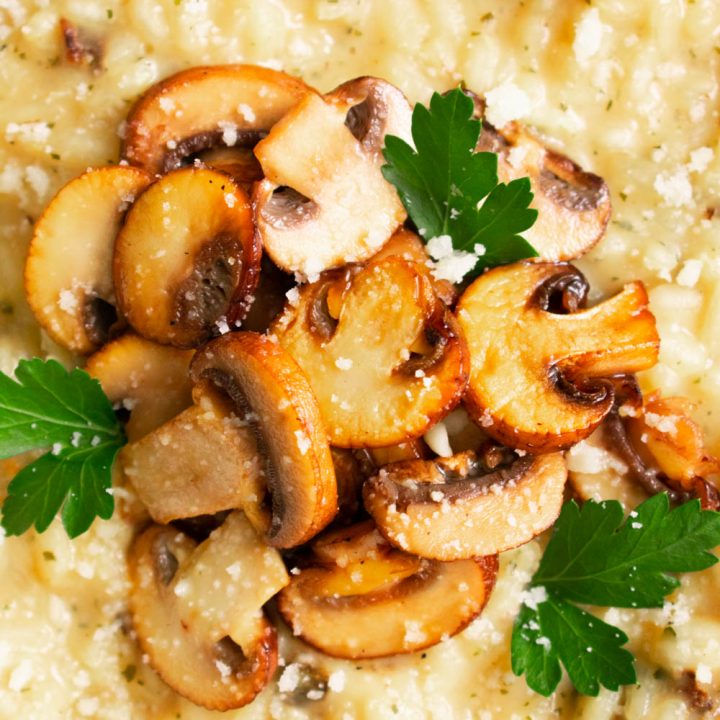 Creamy Mushroom Risotto
Creamy Mushroom Risotto - this indulgent creamy recipe is full of earthy flavors derived from sautéed mushrooms and silky buttery texture..
Ingredients
1 cup Arborio Rice
1 Cremini Mushrooms, sliced
1 cup Mushrooms, chopped
1 Garlic Clove, chopped
2 cups Low Sodium Chicken Broth
1 cup Grated Parmesan Cheese
1 Onion, chopped
1 tbsp Olive Oil
2 tbsp Butter
1/2 tsp Ground Black Pepper
1 tsp Salt
Parsley, for garnish
Instructions
Pour the stock into a saucepan and bring to a simmer over a medium heat. The cooking liquid should be kept at simmering temperature for the entire time.
Heat 1 tbso of oil in a medium pan. Add onion and cook for 5 minutes till translucent. Add 1 tablespoon butter, garlic, sliced and chopped mushrooms. Cook until the mushrooms have softened and are golden, then season with salt and pepper. Remove mixture from the pot and set aside.
Melt 1 tbsp butter in the pot and add the arborio rice. Stir as you toast the rice for 3 minutes. Add 1 cup of water and let it simmer for 4 minutes.
Add 1 cup of hot broth. Stir often and cook until the rice has mostly absorbed liquid. Keep stirring until the risotto is cooked, creamy but firm.
Add the mushroom mixture back into the rice or save some for top garnish.
Stir in parmesan cheese and garnish with parsley.

Nutrition Information:
Yield:

2
Serving Size:

1
Amount Per Serving:
Calories:

588
Total Fat:

34g
Saturated Fat:

16g
Trans Fat:

1g
Unsaturated Fat:

15g
Cholesterol:

74mg
Sodium:

2235mg
Carbohydrates:

48g
Fiber:

3g
Sugar:

5g
Protein:

25g
Please note that nutritional information is not always accurate.