Oh, you're in for a treat! This Easy Bruschetta Recipe is a classic Italian appetizer that is nothing short of a delight. It is not only delicious but also an easy appetizer anyone can make. It requires just a few simple ingredients: crusty bread, fresh tomatoes, garlic, olive oil, ricotta, and salt. It's hard not to want more after one bite!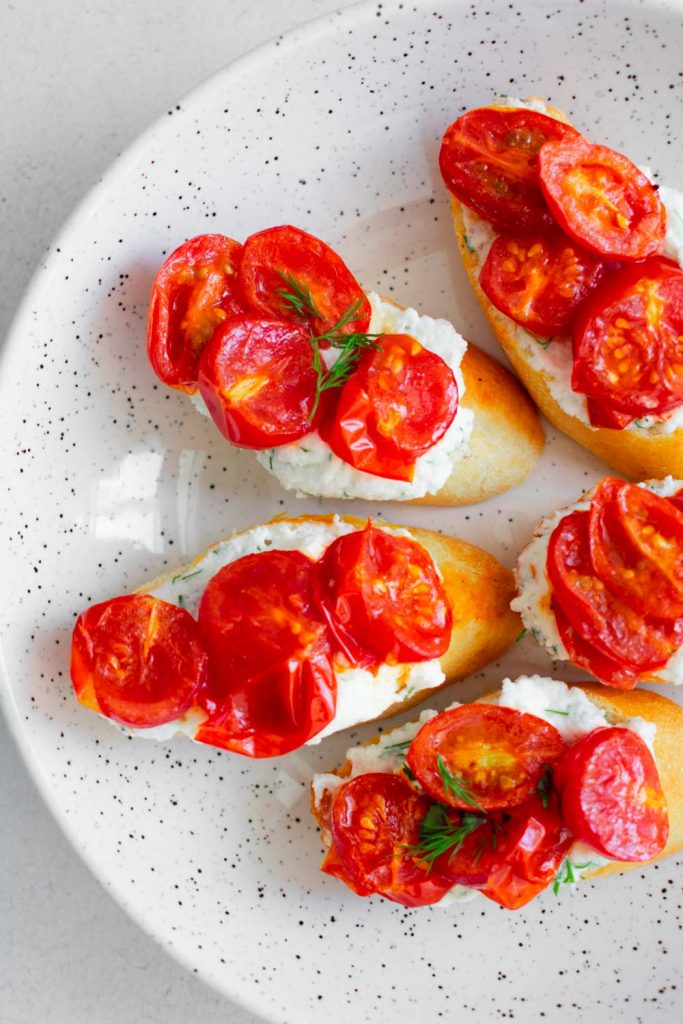 Okay so… homemade bruschetta! I mean roasted cherry tomato bruschetta! The taste of this mini delightful appetizer is forever etched on my taste buds. And to think such a flavorful dish can actually be made in 20 minutes or less. Something I learned early in life about cooking was, quality ingredients are just as essential as technique.
One might do all the necessary things to make a dish but if the wrong or poor choice of ingredients is used, the dish will not deliver. This is the best bruschetta recipe and definitely a winning appetizer choice. There is the use of quality ingredients, flavorful and easy to make.
I have made this tomato bruschetta recipe many times but honestly, this was my favorite one of the lots. I took my time learning how to build the flavors right so that each part has a delicious taste. The bread was flavored, the ricotta cheese was flavored and the tomatoes were flavored too. That is how this has come to be the best bruschetta appetizer ever! So let's get into the ingredients.
Why You'll Love This Recipe
Roasting the tomatoes and garlic brings out their natural sweetness and enhances the overall flavor of the dish.
The crispy bread paired with the soft, juicy tomatoes and creamy mozzarella creates a perfect textural balance.
This classic bruschetta can be served as an appetizer or a light meal and can be easily customized with different toppings.
One of the best ways to use up extra tomatoes. Tomatoes are a great source of vitamins and antioxidants, while garlic has been shown to have numerous health benefits, including boosting the immune system and reducing inflammation.
It is a simple and quick recipe that can be made with just a few ingredients, making it a great option for busy weeknights or impromptu gatherings.
This easy bruschetta recipe looks beautiful and can be easily dressed up with a sprinkle of fresh herbs or a drizzle of balsamic glaze if you wish, making it an impressive dish to serve at dinner parties or special occasions.
Ingredients List And Substitutions
French Baguette Bread – the baguette is the choice of bread used in this recipe because I really wanted them to be bite-sized. Well in my case each one was eaten in three bites. Another reason why I used a baguette is that it has one of the best flavors I find. However, other French bread or crunchy bread is a great substitution here. Whatever kind of bread you use, make sure to cut them not too thin or too thick. In this way, the outside will be toasty while the inside will be soft.
Red Cherry Tomatoes – as cherry tomatoes are sweeter in nature than other tomatoes, they seem to fit in well with this recipe that seems somewhat indulgent in nature. However, if you can't find cherry tomatoes at the store, diced Roma tomatoes will be a similar substitute.
Ricotta Cheese – this has always been a favorite of mine whenever I am craving something savory and indulgent. Ricotta is not very sweet tasting and that is why we have to enhance its flavors with other ingredients for this recipe.
Fresh Garlic – crush some garlic to flavor the tomato. Tomatoes taste wonderful when paired with garlic. If you do not have fresh garlic, garlic powder will work too.
Extra Virgin Olive Oil – needed to flavor and toast the bread
Fresh Dill – dill and ricotta are like a perfect match. And since ricotta cheese has a very mild taste, the presence of dill will help to enhance it.
Salt and Black Pepper – acts as flavor enhancer.
Fresh Basil – this is an optional garnish you can sprinkle on top.
Optionanal ingredient
Red Onion – garnish with finely chopped onion on top if preferred.
Step-by-step Instructions To Make Bruschetta Recipe Perfectly
Preheat the oven to 400 degrees for about 10 minutes. While you are waiting, slice the baguette into half-inch-thick slices, brush each piece with olive oil, and sprinkle salt and black pepper over their tops. Place the baguette slices on the baking sheet.
Slice the cherry tomatoes in half, and pour into a mixing bowl with a tablespoon of olive oil and one teaspoon of crushed garlic. Set them on the other side of your baking tray.
Bake the baguette in the preheated oven for 5 minutes. Take out the baguette and continue to roast the tomatoes until they are soft.
Mix together the ricotta cheese, chopped dill, and salt in a small bowl until creamy and well combined.
Set the tomatoes aside once they have done their roasting and spread ricotta on the baguette slices. Put the roasted cherry tomatoes on top of the ricotta and then sprinkle with fresh chopped basil or dill.
Recipe Tip
It is vital to serving the appetizer immediately once it is ready because the bread will become soggy if it is left sitting around for too long.
FAQs about Making Bruschetta
Can Bruschetta Be Made The Day Before?
If you are making this ahead, roast the tomatoes, let them cool down, and put them in an airtight container. Make the ricotta dill mix as well, cover, and keep both refrigerated. All you'll have to do is bring out the ricotta dill mix a couple of hours before serving so it can get to room temperature. Then toast the bread the next day, give the tomatoes a couple of minutes in the oven as well to get warm then assemble the appetizer.
What is the best bread to use for bruschetta?
Traditionally, Bruschetta is made with Italian bread such as baguette, ciabatta, or sourdough bread. However, you can use any crusty French bread that can hold up to the toppings without getting too soggy.
Can I use different types of cheese instead of ricotta?
Yes, you can use different types of cheese such as feta, goat cheese, or Parmesan cheese. Just make sure the cheese complements the other ingredients and is good for melting.
Can I make the Bruschetta ahead of time, and if so, how should I store it?
Yes, you can make the Bruschetta ahead of time. To store it, place the toppings in an airtight container and store it in the refrigerator. Toast the bread and assemble the Bruschetta right before serving to maintain the crispness of the bread.
What are some alternative toppings I can use for the Bruschetta?
There are many alternative toppings you can use for Bruschetta, such as chopped basil, diced avocado, grilled zucchini, roasted bell peppers, caramelized onions, or balsamic glaze. Be creative and use ingredients that you like!
Can I use canned tomatoes instead of fresh tomatoes?
Yes, you can use canned tomatoes instead of fresh tomatoes. However, fresh tomatoes will give the Bruschetta a more vibrant flavor and texture. If using canned tomatoes, drain them well before roasting.
Other Easy Appetizer Dish To Make
Spanakopita Triangles (Spinach and Cheese Pie)
Easy Bruschetta Recipe
This Easy Bruschetta Recipe is a simple but delicious appetizer that will please anyone. It's hard not to want more after one bite!
Ingredients
12-inch Baguette
1 1/2 cups Red Cherry Tomatoes
3/4 cup Ricotta Cheese
1 Garlic Clove, crushed
3 tbsp. Olive Oil
2 tbsp. Fresh Dill
1 tsp. Salt
1 tsp. Black Pepper
Instructions
Preheat the oven to 400 degrees for about 10 minutes.
In the meantime, slice the baguette into half-inch-thick slices, brush each one with olive oil, and sprinkle with salt and black pepper on the top side. Place on the baking tray.
Slice the cherry tomatoes into halves and pour into a mixing bowl, add one tablespoon of olive oil along with crushed garlic, and mix. Set them on the other side of the baking tray.
Set the baking tray in the pre-heated oven and let the baguette toast for 5 minutes. Take them out and allow the tomatoes to continue to roast for another 5 minutes till they get soft or collapse.
Add ricotta cheese, chopped dill, and salt together in a small mixing bowl. Mix properly until creamy and well combined.
Once the tomatoes are ready, bring them out of the oven and set them aside. It's time to assemble.
Spread a tablespoon of creamed ricotta cheese on each slice of the baguette. Add the roasted cherry tomatoes on top of the ricotta. Then top them with fresh chopped basil.
Serve immediately while warm.
Notes
1. The grape tomato is also an excellent alternative to cherry tomatoes since it is sweet and has a similar taste as cherry tomatoes.
2. It is important to serve the appetizer immediately when done because the bread will become soggy if left sitting around for long.
Nutrition Information:
Yield:

9
Serving Size:

1
Amount Per Serving:
Calories:

85
Total Fat:

7g
Saturated Fat:

2g
Trans Fat:

0g
Unsaturated Fat:

5g
Cholesterol:

6mg
Sodium:

497mg
Carbohydrates:

21g
Fiber:

1g
Sugar:

2g
Protein:

6g
Please note that nutritional information is not always accurate.