Spinach Cherry Tomato Pasta is a flavorful and nutritious pasta dish that combines the vibrant colors and flavors of fresh cherry tomatoes with the nutritious goodness of fresh spinach. This recipe is simple and is ready in 30 minutes so it makes a great weeknight dinner idea.
The one thing I enjoy about most pasta recipes is how easy and quick they can be, and this recipe certainly falls into that category. Making this Spinach Cherry Tomato Pasta is very easy and inexpensive – only a few simple ingredients are required for this delicious meal, and most of them you probably already have at home.
Tomatoes are commonly found in many pasta recipes. Soups and sauces made from them have good flavor, and they also make a great sauce/sauce base. So in this easy pasta recipe, the cherry tomatoes are the star. Other accompanying ingredients are spinach, garlic, fresh basil leaves, pepper flakes, and olive oil. All of these combined together make this spinach and cherry tomato pasta dish to die for!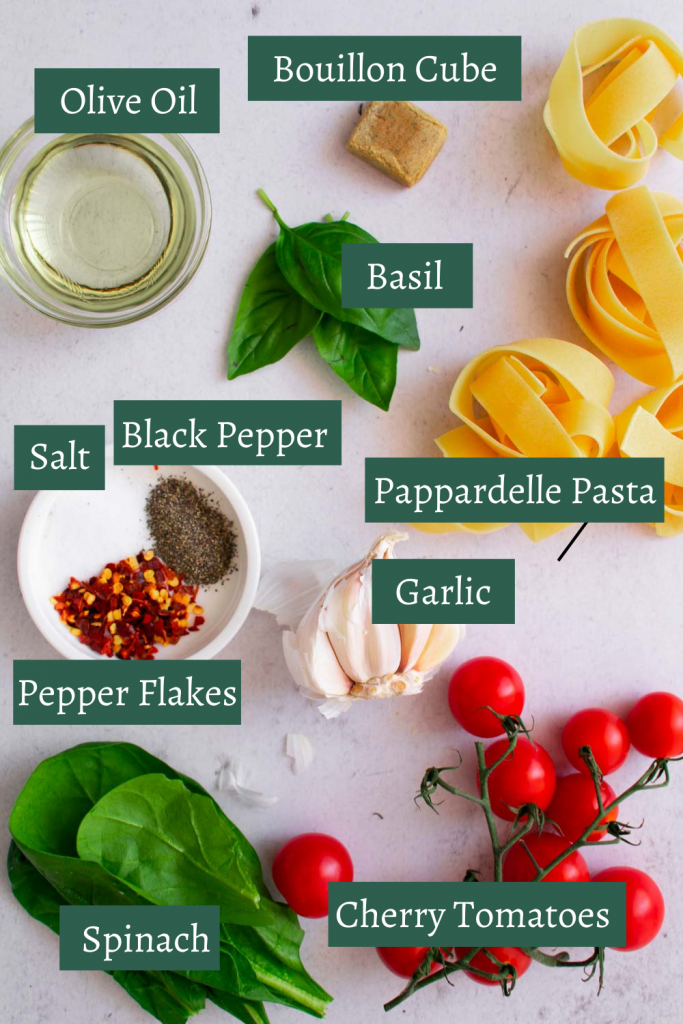 Ingredients and Substitutions For Spinach Cherry Tomato Pasta
Pappardelle Pasta – the reason why I chose the pappardelle pasta for this recipe is because of the shape. I find that its ribbon-like nature makes it great for swirling in the sauce. That is the reason why spaghetti, linguini, or angel hair pasts will work just as well. Feel free to use whole wheat pasta too.
Cherry Tomatoes – Cherry tomatoes have a different taste from other tomatoes and that's what makes this recipe. Therefore, I strongly suggest you don't substitute it not to miss out on the sweet unique sweet taste.
Fresh Garlic Clove – the use of garlic in this recipe to build flavor and aroma. The smell of garlic develops when fried. Garlic powder is a good alternative too.
Olive Oil – is an essential cooking oil when making pasta.
Fresh Baby Spinach Leaves – vegetables have a role they play in high-carb dishes and the spinach is what brings some added nutrients into this dish. Use baby spinach or chop regular spinach leave into two or thirds.
Red Chili Pepper Flakes – this is a sweet-tasting dish due to the cherry tomatoes. Red pepper flakes add some heat to this Spinach Cherry Tomato Pasta. The amount used is entirely up to how hot you want the dish to taste.
Fresh Basil Leaves – this is another aromatic added essentially for its flavors. Basil and tomatoes work great when paired together.
Vegetable Bouillon Cube – bouillon cubes are basically dehydrated broth and stock made into cubes. They require being dissolved in order to use them.
Salt and Black Pepper – to flavor the dish.
Parmesan Cheese – grate on top of the dish as an additional garnish but totally optional.
Fresh Parsley – an optional garnish.
How To Make Spinach and Cherry Tomato Pasta
Put a large pot of water on a boil. Add the bouillon cube and make sure it melts, add pasta, and cook following package directions.
Cook the pasta while you heat up olive oil in a large skillet and prepare your sauce by toasting the garlic for 30 seconds, then add the cherry tomatoes and basil.
Add 1/4 cup of the pasta water to the mix.
Then add the cooked pasta along with black pepper, red pepper flakes, and a little salt, and stir to combine with the sautéed cherry tomatoes. Check the tomato sauce for salt, and add more if needed.
Grated Parmesan cheese can be served with this dish if you want. It is completely optional.
Extra Recipe Notes and Tips
There are other kinds of pasta that will work just as well. In that list are linguini, spaghetti, angel-hair pasta, and farfalle (bow tie) though I used pappardelle for this recipe.
Use fresh tomatoes to get the best flavor for this recipe and the best results.
Feel free to add a few extra tablespoons of pasta cooking water if it seems a bit dry.
It is important to stir this pasta carefully so that the cherry tomatoes do not break down.
Spinach Cherry Tomato Pasta FAQs
What To Serve With This Recipe
This is a carb-dense food so it is better to balance so pairing it with a salad makes a great side dish. This spinach and cherry tomato dish pairs well with a Greek salad or a simple garden salad.
How To Store and Reheat
Pasta does not keep well when frozen. When this has had a chance to cool down completely, store it in an airtight container and place it in the fridge. Should be consumed within 5 days while fresh. To heat up, add pasta to the pot and set it on low-medium heat, add a splash of water, and cover. Let the steam cook it till it softens back up.
What type of pasta should I use for this recipe?
There are many types of pasta to choose from when making Spinach and Cherry Tomato Pasta. Some options include spaghetti, penne, spaghtetti, or even tagliatelle. It is important to consider the shape and size of the pasta when deciding which one to use. For example, spaghetti or linguine may work better with a light tomato-based sauce, while penne or fettuccine usually pairs well with a creamier sauces.
Can I use fresh or frozen spinach in this recipe?
Both fresh and frozen spinach can be used in this recipe. Frozen spinach should be thawed and drained of any excess water before adding it.
Can I modify this recipe to make it vegan or gluten-free?
To make it gluten-free, you can use gluten-free pasta. Keep in mind that other ingredients, such as cherry tomatoes and spinach, should be naturally gluten-free. However, it is always important to check labels and verify that the ingredients you are using are suitable.
Other Simple Pasta Recipes To Try
Pesto Pasta With Spinach and Peas
Spinach Cherry Tomato Pasta
This delicious tasting Spinach Cherry Tomato Pasta is a simple dinner recipe made with fresh ingredients guaranteeing great flavors in every bite.
Ingredients
1lb Pappardelle Pasta, (Spaghetti or Linguini Pasta is a good substitute)
1 1/2 cups Cherry Tomatoes, cut into halves
3 Cloves of Garlic, sliced
3 tbsp. Olive Oil
2 cups Spinach, loosely packed
1 tsp. Black Pepper
1 tsp. Red Pepper Flakes
3 Basil Leaves, chopped
1 Vegetable Bouillon Cube
1 tsp. Salt
Grated Parmesan Cheese (optional)
Instructions
Bring a medium pot of water to a boil. Add the bouillon cube and stir until the cube melts. Add pasta to pot and cook according to directions on the package.
While the pasta cooks, heat olive oil in a skillet and add the garlic. Fry the garlic for 30 seconds then add the cherry tomatoes and chopped basil.
Sautee the cherry tomatoes for 1 minute, then add chopped spinach. Gently stir the spinach till they wilt down.
Add 1/4 cup of the pasta water into the mix.
Then add the cooked pasta along with black pepper, red pepper flakes and some salt then stir everything together. Check the pasta for salt and add a more if needed.
Serve with grated parmesan cheese on top if you want. Totally optional.
Notes
1. Several other pastas will work just as well, including linguini, penne, and farfalle (bow tie). I used pappardelle for this recipe.
2. If your pasta seems a little dry, add a few more tablespoons of pasta water.
3. Stirring this pasta requires the greatest amount of care so that the cherry tomatoes do not completely break down.
4. Extra flavoring can be achieved by shaving Parmesan Reggiano on top of warm plated pasta.
Nutrition Information:
Yield:

4
Serving Size:

1
Amount Per Serving:
Calories:

280
Total Fat:

9g
Saturated Fat:

1g
Trans Fat:

0g
Unsaturated Fat:

7g
Cholesterol:

42mg
Sodium:

812mg
Carbohydrates:

41g
Fiber:

5g
Sugar:

3g
Protein:

11g
Please note that nutritional information is not always accurate.