This easy Halloumi Pasta with Cherry Tomatoes is a simple yet flavorful penne pasta dish that combines the rich and salty taste of halloumi cheese with the vibrant sweetness of cherry tomatoes. This dish can be prepared quick in 30 minutes or less!
What Is Halloumi Cheese?
The cheese halloumi mostly consists of a mix of goat, sheep, and cow's milk. Because it doesn't melt as easily as other types of cheeses, you can find it used in dishes as a meat replacement. You will find it in a lot of Mediterranean and African dishes.
Haloumi originates from the Mediterranean and was first produced on the island of Cyprus during the Byzantine era (AD 395 – 1191). Farmers in Cyprus used halloumi as a source of protein, and in some villages, the whole community would make large batches together.
Why You'll Love This Recipe
The halloumi pasta dish offers a delicious combination of flavors. The savory, slightly salty halloumi cheese pairs perfectly with the sweet and juicy cherry tomatoes.
This recipe is perfect for busy weeknights or when you're short on time. It requires minimal preparation and cooking time, making it a convenient option for those looking to whip up a tasty meal without spending hours in the kitchen. Ready in 30 minutes.
While the recipe is delicious as written, it's also highly customizable. You can easily add your favorite vegetables, herbs, or spices to make it your own.
Ingredients List For Halloumi Pasta
Penne Pasta – I love this pasta shape for dishes with delicious sauces. An alternative is rigatoni, cappelletti or ziti.
Halloumi Cheese – you can find halloumi cheese sometimes in the deli section of the grocery store or where the fresh cheeses are. You might also have better luck going to a store that carries a lot of Eastern European ingredients.
Cherry Tomatoes – these are some of the sweetest and most delicious tomatoes you can cook with. Adds a lot of flavor to this dish.
Tomato Sauce – use a high-quality Pomodoro sauce if it's accessible.
Olive Oil – needed to sauté the tomatoes and vegetables. Red Onion – you can use shallots if you want a sweeter-tasting halloumi pasta.
Garlic – it brings another layer of flavor to the tomato sauce.
Fresh Basil Leaves – basil works magnificently with tomatoes. It just takes the whole sauce to a whole new level.
Fresh Parsley – adds some much-needed freshness to the pasta dish.
Smoked Paprika – using smoked paprika brings a depth of flavor that you'll definitely love!
Oregano – adds more flavor to the sauce.
Salt and Black Pepper – flavor enhancer.
How To Make Easy Halloumi Pasta with Cherry Tomatoes
Start boiling water for penne pasta over medium heat, add salt and cook it according to the package instructions or al dente.
Add a tablespoon of olive oil to a skillet over medium-high heat.
Add the halloumi to a skillet and fry it. You need to fry them on each side for 2 minutes until they are golden brown.
Remove from the pan once fried, then add the red onions, garlic, and cherry tomatoes into the skillet. Sauté for 3 minutes.
Add tomato sauce, basil leaves, oregano, paprika, salt, and pepper to the skillet. Let it cook for five minutes. Halfway through, add fried halloumi to the tomato sauce.
Add the cooked pasta to the skillet and stir well to combine with the sauce.
Serve topped with grated cheese.
Top Tips
Don't Overcook the Halloumi. Halloumi has a unique texture that's best enjoyed when slightly crispy on the outside. Be cautious not to overcook it, as it can become tough and rubbery. Cook it just until it's golden brown on both sides.
Use Ripe Cherry Tomatoes. Get ripe and sweet cherry tomatoes to maximize the natural sweetness in the dish. This enhances the overall flavor profile and adds a burst of freshness.
Cook Pasta Al Dente. Cooking the pasta al dente (with a slight firmness to the bite) prevents it from becoming too soft and mushy when combined with the other ingredients.
Play with Herbs. While fresh basil is a classic choice, don't hesitate to experiment with other herbs like parsley, thyme, or oregano. These can add unique aromatic notes to the dish.
Customize with Extras. Feel free to add extra ingredients like sautéed spinach, toasted pine nuts, or Kalamata olives to personalize the dish to your liking.
What Goes Best With Halloumi?
Halloumi goes well with a lot of herbs, spices, and vegetables. Some of the things you can pair halloumi with are:
Mediterranean Peppers
Mushrooms
Paprika
Cherry Tomatoes
Basil
Lemon
Zucchini
Mint
Pesto
Honey
Halloumi Pasta FAQs
What kind of pasta works best for this recipe?
Penne, fusilli, or any other short pasta with nooks and crannies will work well for this recipe. These shapes help hold onto the sauce and ingredients, making each bite flavorful.
Can I add vegetables to the dish?
Absolutely! You can add vegetables like spinach, sautéed mushrooms, bell peppers, or even zucchini to enhance the nutritional value and add more colors and textures to the dish.
How do I prevent the halloumi from sticking to the skillet?
To prevent the halloumi from sticking, make sure the skillet is adequately heated and lightly greased with olive oil. Additionally, avoid overcrowding the skillet, as this can cause the cheese to release excess moisture and become soggy.
Is this Halloumi Pasta dish suitable for vegetarians?
Yes, this dish is suitable for vegetarians since it doesn't contain any meat products.
How To Store and Reheat
When frozen, pasta might become mushy so store it in the refrigerator in an airtight container once it has cooled completely. The leftovers should be consumed within 5 days while fresh. To heat up, let it get to room temperature and microwave for a few minutes when ready.
Other Quick And Simple Pasta Recipes To Try
Rigatoni Alla Norma (Eggplant Pasta)
Spinach and Cherry Tomato Pasta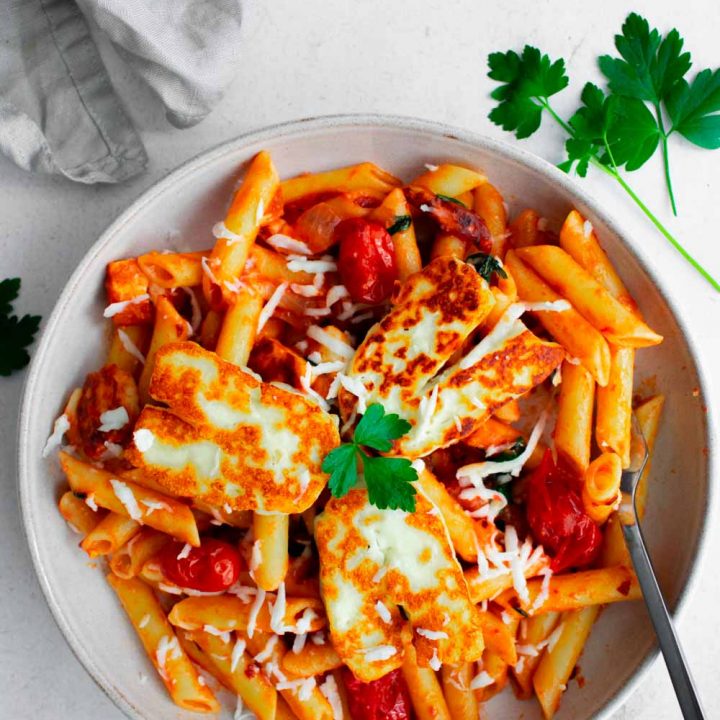 Halloumi Pasta
Halloumi Pasta - In this pasta dish, halloumi is cooked with tomatoes, garlic, and herbs in a simple tomato sauce. The basil and cherry tomatoes perfectly complement the flavors of halloumi cheese, making each bite a delightful experience.
Ingredients
7 oz. Penne Pasta
300g Halloumi Cheese, sliced
100g Halloumi Cheese, for topping
1 cup Cherry Tomatoes
1/2 cup Tomato Sauce
1 tbsp Olive Oil
2 tbsp. White Onion, sliced
1 tbsp. Garlic, minced
7 Basil Leaves
1/4 cup Parsley, chopped
1 tsp. Oregano
1 tsp. Smoked Paprika
1 tbsp Salt
1 tsp. Black Pepper
Instructions
Bring water to a boil and start cooking the penne pasta according to package instructions or to your liking.
Set a skillet over medium-high heat and add a tablespoon of olive oil into it.
Place the halloumi cheese in the skillet and start frying. Fry them for 2 minutes on each side till they become golden brown.
Remove from the skillet once fried, then add the onions, garlic, and cherry tomatoes into the skillet. Let them saute for 3 minutes.
Add tomato sauce into the skillet, basil leaves, oregano, salt, and pepper. Add 4 tablespoons of pasta water and cook for 5 minutes. Add fried halloumi into the tomato sauce halfway through.
Once the pasta is ready, drain and add the pasta into the skillet to mix well with the sauce.
Serve with a topping of grated fresh halloumi.
Notes
1. You can use other types of pasta if you wish. Rigatoni and the spiral-shaped ones come to mind.
2. Add some pasta water into the sauce if you find it a bit too thick.
Nutrition Information:
Yield:

2
Serving Size:

1
Amount Per Serving:
Calories:

689
Total Fat:

53g
Saturated Fat:

28g
Trans Fat:

0g
Unsaturated Fat:

21g
Cholesterol:

158mg
Sodium:

5043mg
Carbohydrates:

46g
Fiber:

5g
Sugar:

8g
Protein:

52g
Nutritional information is provided as a courtesy only and should be construed as an estimate rather than a guarantee. Ingredients can vary and Kitchen On The Avenue makes no guarantees to the accuracy of this information.