A simple yet tasty pasta dish, Easy Pasta Alla Norma is mixed with flavors of sweet fresh cherry tomatoes and tangy ‌tomato‌ ‌paste. This dish is accentuated by the spongy texture of the roasted eggplants, which absorb the delicious sauce so well that every bite is a taste explosion!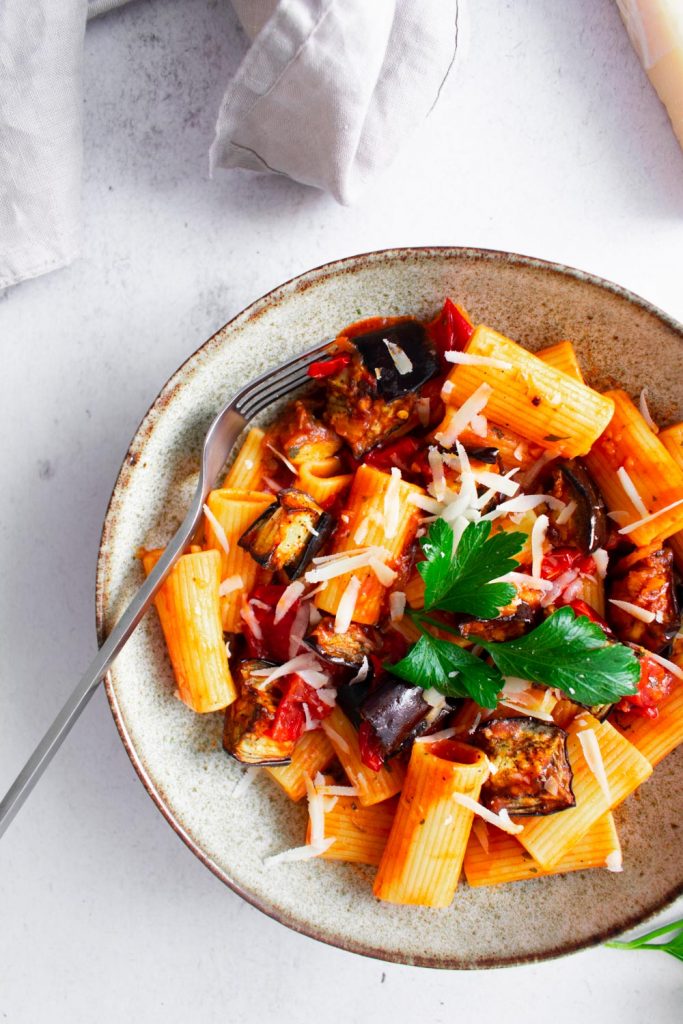 There haven't been many eggplant recipes that I have tried. Except maybe in green curry, but not in pasta. However, eggplants are in season now and I thought I would use them to make my favorite thing to cook; pasta.
What Is Pasta Alla Norma?
The Pasta Alla Norma is a dish of pasta and eggplant from Italy. Originally from Catania, Sicily, Italy, this dish is typical of Sicilian cuisine. Pasta, tomatoes, fried eggplants, grated Ricotta Salata cheese, and basil make up the original recipe. This recipe, however, has been adjusted to be more accessible.
Recipe Ingredients And Substitutions
Rigatoni Pasta – I chose rigatoni for this recipe because it just works perfectly! It has a hole in the center to hold more sauce. Also, the ridges on the exterior do the same. I find that sauces stick well to pasta with a rough exterior.
Eggplants – Picking out the right eggplant can be a bit tricky, so check these five things before choosing it. Check that is heavy enough for its size. That the skin is shiny and not dull. Lastly, the stems are green. The quality of the eggplants matter in this dish as a key component.
Cherry Tomatoes – these are sweet and delicious and add a very fresh taste to this dish. An alternative is using canned crushed tomatoes or plum tomatoes but if you enjoy fresh food then this is the one.
Tomato Paste – (or tomato sauce), not every recipe uses tomato paste but it's definitely a great addition. It adds a tangy flavor to the sauce and thickens it up nicely. Definitely takes this dish to another level.
Shallots – these add a mildly sweet flavor to the sauce however if you don't have any shallots, white onions will work as well.
Crushed Garlic – adds a great flavor to the sauce.
Dried Parsley – a great substitute to this is fresh basil leaves, which the original recipe calls for by the way.
Extra Virgin Olive Oil – needed to sautee the shallots and garlic, and to roast the eggplants.
Oregano – flavor enhancer.
Salt and Black Pepper – as a flavor enhancer
Parmesan Cheese (optional) – grating or shaving some parmesan cheese on top of this pasta dish is a good way to serve it. You may opt for vegan cheese to suit your dietary needs.
How To Make Easy Pasta Alla Norma Recipe
The oven should be preheated to 400 degrees.
Slice the eggplants into bite-size pieces and place them in a mixing bowl. Place the roasted potatoes on a baking sheet lined with parchment paper, then drizzle with olive oil, salt, and pepper.
Place in the oven for 15 minutes making sure to turn halfway through.
Meanwhile, place a large pot of water on the stove to boil. Then add some salt and the pasta. You can cook pasta to your liking or according to the package instructions.
In a large skillet, heat the oil over medium-high heat and fry the shallots for one minute, stirring occasionally to prevent them from burning. Next, add the crushed garlic. One more minute of frying will do.
The cherry tomatoes should be added first, followed by the tomato paste (or tomato sauce), and mixed properly to fry.
If needed, add another tablespoon of oil and fry for a minute.
Add a few shakes of salt, pepper, dried parsley, and some pasta water. Mix well.
Combine the rigatoni with the sauce as well as the roasted eggplant slices. Ensure that the sauce is evenly distributed over the pasta by stirring.
Make sure the salt and pepper are right. Taste and adjust if necessary.
Garnish with some parmesan cheese shavings.
Extra Recipe Note
There are other kinds of pasta that will work just as well. In that list are linguini, spaghetti, penne, and ziti though I used rigatoni for this recipe.
In the event that you can't use an oven fried eggplant will do.
Feel free to add a few extra tablespoons of pasta cooking water if the sauce seems too thick.
It is important to stir this pasta carefully so that the cherry tomatoes and pasta does not disintegrate.
FAQs
Type Of Pasta To Use
When cooking pasta dishes like Pasta Alla Norma, it's preferable to use pasta shapes that will be able to hold the sauce better. For that reason, using rigatoni, ziti, spaghetti, or penne works best for me.
What To Serve With Pasta Alla Norma
This eggplant pasta dish is such a great meal that it can stand on its own; it doesn't require much more than that. But, adding a side of salad is always a good idea during a meal.
How To Store
Pasta does not keep well when frozen. When this has had a chance to cool down completely, store it in an air-tight container and place it in the fridge. Should be consumed within 5 days while fresh. To heat up, add pasta to the pot and set it on low-medium heat, add a splash of water, and cover. Let the steam cook it till it softens back up.
Other Pasta Recipes To Try
Spinach and Cherry Tomato Pasta
Rigatoni Alla Norma (Rigatoni with Eggplant)
This Rigatoni Pasta Alla Norma is a simple pasta dish tossed in a sauce that combines the flavors of sweet fresh cherry tomatoes along with the tangy taste of tomato paste. The roasted eggplants bring a lot to this dish; the spongy texture soaks up the delicious sauce nicely so every bite is a burst of flavor!
Ingredients
10 oz Rigatoni Pasta
2 medium Eggplants, sliced
2 cups Cherry Tomatoes, sliced in halves
1/4 cup Tomato Paste
2 Shallots, sliced
1 tbsp Crushed Garlic
1 tbsp. Dried Parsley
2 tbsp. Olive Oil + 1 more tbsp separate
1 tbsp. Salt
1 tsp. Oregano
1 tsp. Black Pepper
Grated Parmesan Cheese (to garnish)
Instructions
Preheat your oven to 400.
Slice the eggplants into bite-size pieces, and add them to a mixing bowl. Drizzle some olive oil on top of them, then salt and pepper, and set them on a parchment-lined baking tray.
Toss into the oven to roast for 15 minutes turning halfway through to ensure even browning.
While that is going, put some water to boil in a large pot to boil. Add some salt then the pasta. Cook pasta according to package instructions or until tender to your liking.
Set a large skillet over medium-high heat and fry the shallots for 1 minute stirring occasionally to avoid burning. Then add crushed garlic. Let them fry for another minute.
Add the sliced cherry tomatoes then the tomato paste then mix to incorporate into the oil. Add another tablespoon of oil if needed and fry for a minute.
Add 1 tsp of salt, pepper, dried parsley, oregano and 1 cup of pasta water. Stir to combine.
Add rigatoni to the sauce along with the roasted eggplant. Stir to make sure the sauce evenly coats the pasta.
Check for salt and pepper. Add to taste if needed.
Serve with some shavings of parmesan cheese on top.
Nutrition Information:
Yield:

4
Serving Size:

1
Amount Per Serving:
Calories:

373
Total Fat:

9g
Saturated Fat:

1g
Trans Fat:

0g
Unsaturated Fat:

7g
Cholesterol:

1mg
Sodium:

1789mg
Carbohydrates:

67g
Fiber:

11g
Sugar:

15g
Protein:

11g
Nutritional information is provided as a courtesy only and should be construed as an estimate rather than a guarantee. Ingredients can vary and Kitchen On The Avenue makes no guarantees to the accuracy of this information.