Simple Spaghetti Mushroom Aglio Olio is made with just a few ingredients that can be found in the pantry and topped with a generous amount of parmesan cheese for a boost in flavor. This easy pasta dish can be enjoyed with a vegetable side of your choosing.
What Is Aglio Olio Pasta?
Spaghetti Aglio Olio is a Neapolitan pasta dish with a traditional Italian flavor. It literally means spaghetti with garlic and olive oil. This dish is a very simple pasta recipe that can be cooked in less than 15 minutes if all the prep work has been done beforehand. A light sauté of minced, minced, or ground garlic in olive oil is the key to this dish, which is sometimes accompanied by dried red chili ‌flakes. Chopped parsley is added as a garnish along with cheese. However, there are arguments that the original recipes do not contain cheese.
What You'll Love About Spaghetti Aglio e Olio
I call this recipe economical because you don't need a lot of ingredients to make this delicious pasta dish. Most of these ingredients will already be in your pantry or cost you less than $$ to get them.
This Mushroom Aglio Olio dish can be ready in less than 15 minutes requiring only minimal prep work.
It is a recipe for garlic lovers. Every bite is a burst of garlic flavors.
Easily a vegan dish if you take out the cheese garnish.
Ingredients You'll Need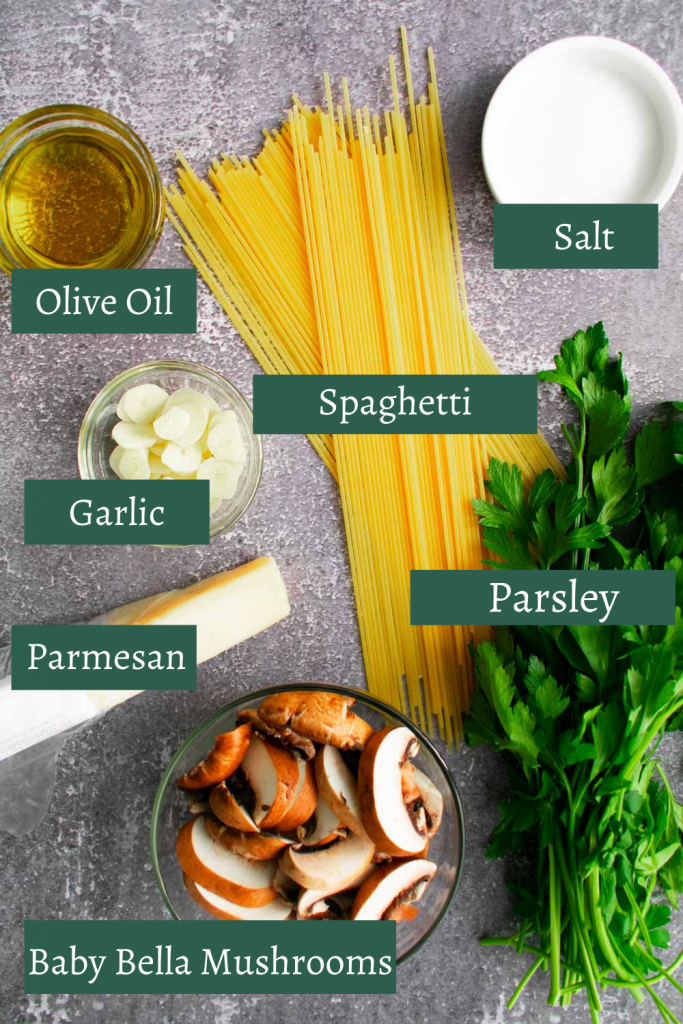 There is not a lot of flavor profile so the taste will be easily influenced by the ingredients used. It is very important you use the best quality ingredients available to you for this dish.
Spaghetti – the popular choice of pasta used in this recipe is spaghetti. However, linguine or angel hair pasta will work just as fine. The key is making sure your pasta is cooked properly; al dente (done but firm).
Baby Bella Mushrooms – Baby portobello mushrooms are so delicious. They have a flavorful earthy taste and soak up flavors well. This will be sauteed along with the fresh garlic so it gets a chance to soak up some of that flavor. Sautéed mushrooms add earthy flavors to most recipes.
Garlic – use sliced or chopped garlic.
Fresh Parsley – this is a key to making this dish well. Parsley leaves bring in a fresh element to this dish. I strongly recommend using fresh more easily than dried ones for this recipe.
Parmesan Cheese – cheese and pasta are always a great pair. Use real parmesan cheese to add flavor to this recipe. Avoid buying those pre-gated cheese in-store because they are just cheese dust allegedly.
Extra Virgin Olive Oil – use the best quality olive oil available to you. It will greatly influence the taste of this dish because this is the base.
Black Pepper and Salt – to taste.
How To Make Mushroom Aglio Olio
In a large pot, bring water to a boil over high heat. After adding salt and following the package instructions, cook the spaghetti.
During this time, heat the skillet or frying pan on low-medium heat. Add the olive oil, garlic, and sliced mushrooms. To ensure optimal infusion, allow them to be gently sauteed on low heat without burning for 4 – 5 minutes.
Add salt and black pepper to taste.
When the pasta is ready, drain it, and add it to the skillet, but keep 1/4 cup of the pasta water aside.
With tongs, gently combine the chopped fresh parsley and cheese until all the ingredients are well blended.
If your pasta seems a little dry, add a few tablespoons of reserved pasta water and if you need more salt, add it to taste.
Serve with chili flakes for an added kick.
Tips To Make This Dish Perfectly
Cook your pasta al dente. Mushy pasta does not taste good in this dish. A good tip is to cook the pasta in under a minute by the package recommendation because it will get a chance to finish cooking in the oil.
Keep these tips in mind when making this simple dish to ensure success. One of the most important things to remember is not to overcook the garlic.
Garlic adds an underlying flavor to this dish, and we prefer to slice rather than mince the garlic so it can soften and melt as it cooks. That is essentially how to make your Mushroom Spaghetti Aglio e olio fragrant.
A generous amount of olive oil should be used to cook the garlic until it begins to color, but not brown. The olive oil plays a major role in the flavor of this dish, so extra virgin olive oil is required.
FAQs
Why Is Your Aglio Olio Dry?
If you drain your pasta too long it will dry out. That is why the pasta should be cooked alongside preparing the sauce. That way, you can pick the pasta from the water straight into the oil. If your Aglio olio is dry, add a few tablespoons of the pasta water to loosen it up. Another indication is you might not have used enough olive oils so remember for next time.
What Goes Well With Aglio Olio?
It is the perfect light dinner or side dish and can be enhanced with additional side dishes to increase nutrition. Serve mushroom Aglio olio with a side of salad of your choice. This dish will also go well with roasted vegetables and for meat lovers some with baked chicken and fish.
How To Store This Pasta Dish
This pasta dish can keep very well. If there are remnants, pour them into an air-tight glass container and store them in the fridge. Freezing pasta dishes as this has never turned out great for me. I find them to be too mushy when thawed out. For that reason, I keep my pasta dishes in the fridge to be consumed within 4 -5 days at best.
Other Simple Pasta Recipes
Mushroom Aglio Olio
Simple Mushroom Aglio Olio is made with just a few ingredients that can be found in the pantry and topped with a generous amount of parmesan cheese for a boost in flavor. This easy pasta dish can be enjoyed with a vegetable side of your choosing.
Ingredients
5 oz Spaghetti
2 cups Baby Bella Mushrooms, sliced
1/2 cup Parsley, chopped
1/2 Parmesan Cheese, finely grated
1/4 cup Extra Virgin Olive Oil
1 tbsp. Salt
1 tsp Black Pepper
2 - 4 Garlic Cloves, chopped or sliced
Instructions
Bring water to a boil in a large pot over high heat. Add salt, and spaghetti to cook according to package instructions.
Meanwhile, put a large skillet over low-medium heat. Add the olive oil, mushrooms, and garlic. Allow them to gently and slowly sautee for optimal infusion without burning for 4 - 5 minutes.
Add salt and black pepper to taste.
Once the pasta is ready, drain and add into the skillet but retain 1/4 cup of pasta water and set aside.
Add the chopped parsley and grated parmesan and gently mix using tongs till everything is well combined.
Add a few tablespoons of pasta water if you find your pasta to be a little dry.
Check for salt and add more to taste if required.
Recommended Products
As an Amazon Associate and member of other affiliate programs, I earn from qualifying purchases.
Nutrition Information:
Yield:

2
Serving Size:

1
Amount Per Serving:
Calories:

400
Total Fat:

29g
Saturated Fat:

4g
Trans Fat:

0g
Unsaturated Fat:

23g
Cholesterol:

1mg
Sodium:

3526mg
Carbohydrates:

31g
Fiber:

5g
Sugar:

5g
Protein:

8g
Nutritional information is provided as a courtesy only and should be construed as an estimate rather than a guarantee. Ingredients can vary and Kitchen On The Avenue makes no guarantees to the accuracy of this information.