This delicious Zucchini and Mushroom Pasta is a great 20-minute pasta dinner that requires just a few ingredients. Enjoy this dish with a side of salad to make it more nutritious.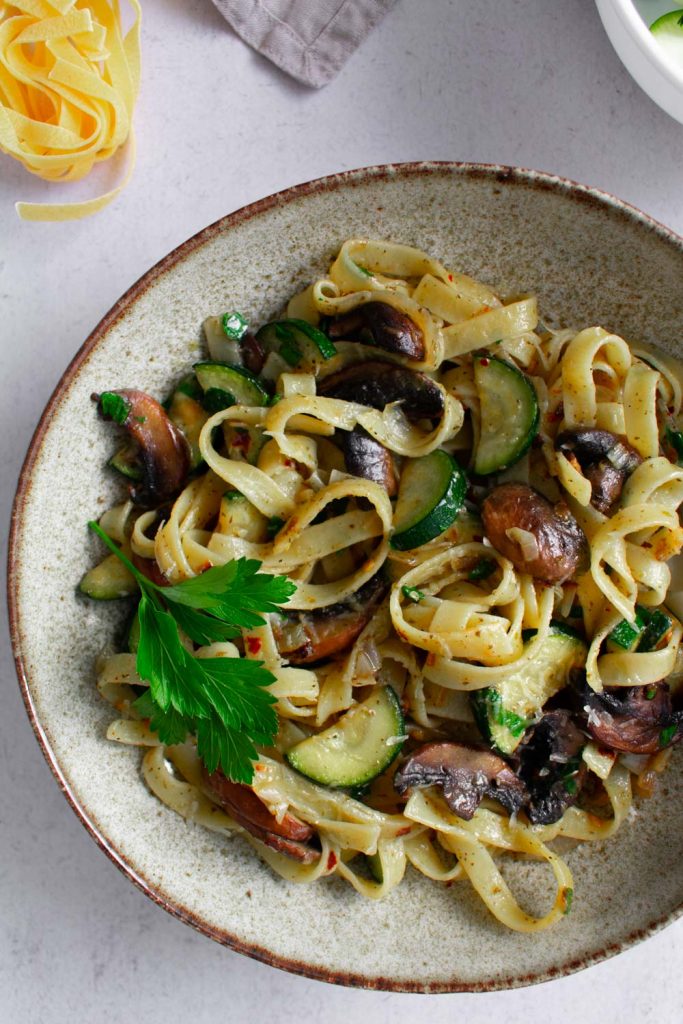 Pasta recipes can be very easy to make as long as you know the right flavors and ingredients to combine for a delicious plate. This Zucchini and Mushroom Pasta dish is one that takes the simplest ingredients that are known to always work. Take olive oil, parsley, cheese, and vegetables and you're halfway through making a lip-smacking dinner.
This recipe is so simple and quite honestly just a few ingredients shy and you'll have made Mushroom Aglio Olio. Well, in this pasta dish, the stars are mushrooms and the zucchinis. I love Zucchinis! They soak up all the delicious flavors in a dish. So every time you bite one, you get a burst of flavor in your mouth.
Why You'll Love This Recipe
This recipe is affordable because you don't need a lot of ingredients to make this delicious zucchini and mushroom pasta dish. Most of these ingredients will already be in your pantry or cost you a few bucks to get them.
This dish can be ready in less than 15 minutes and requires very minimal prep work.
Ingredients You'll Need For This Recipe
Tagliatelle Pasta – Tagliatelle is a very thin, flat ribbon-like pasta noodle that resemble fettuccine and is generally about 6.5 wide. So in that case using fettuccine, linguini or spaghetti will also be fine.
Zucchini – It has neither a sweet nor tart taste. There is no strong flavor to it at all, almost bland and this makes it perfect for taking on flavors.
Baby Bella Mushrooms – these are small portobello mushrooms that are yet to have an oven cap. They are very flavorful and bring earthy flavors to this dish. White mushrooms and chestnut mushrooms are good substitutes.
Onion – adding some white onions into this dish brings mild and sweet flavors.
Pesto – adding pesto to this dish is important as a binder and brings depth to the sauce. Use a couple of tablespoons of high-quality store-bought pesto.
Parsley – adds freshness to this dish.
Olive Oil – to sautee the fresh ingredients.
Red Pepper Flakes – add as much or as little as you want to taste. I love red pepper flakes in this dish because it adds a kick to it.
Salt and Black Pepper – as flavor enhancers.
Parmesan Cheese – this is an optional garnish.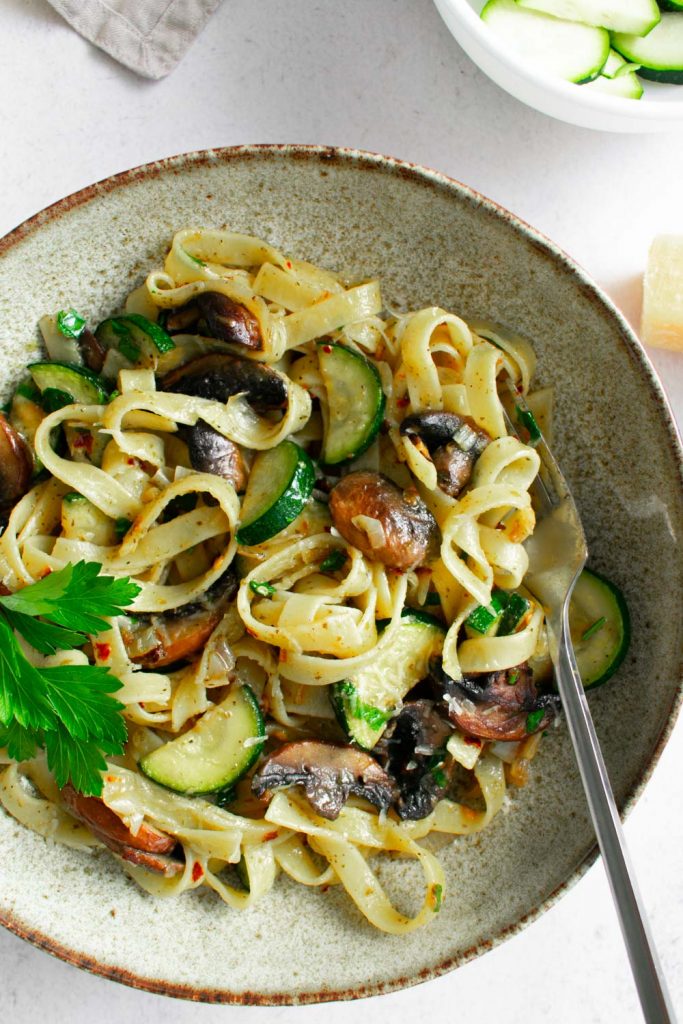 How To Make This Dish
In a medium-sized pot, bring water to a boil over high heat. Next, add salt to the pasta. Make sure you cook the pasta according to the package directions.
When the pasta is half-cooked, heat a skillet over medium heat and add the olive oil. Start sautéing onions, mushrooms, and zucchini in the oil.
Stir occasionally while frying for three minutes.
Next, sprinkle in red pepper flakes, black pepper, and a pinch of salt. Pesto and chopped parsley should be added. Then combine well.
With a tong, pull the pasta noodles into the sauce, stir everything together, and serve.
What Goes Well With Zucchini And Mushroom Pasta
The dish is a good option as a light dinner that can be enhanced with additional sides in order to increase its nutritional value. With zucchini and mushroom pasta, pair a salad of your choice with the pasta. Moreover, it goes well with roasted vegetables and, for meat lovers, with baked chicken and fish.
How To Store This Pasta Dish
Pasta dishes like this can be kept for a long time. Pour leftovers into an air-tight glass container and store them in the fridge. Pasta dishes are frozen before eating have never turned out well for me. They are too mushy once thawed out for me. Therefore, I keep my pasta dishes in the refrigerator to be consumed within four to five days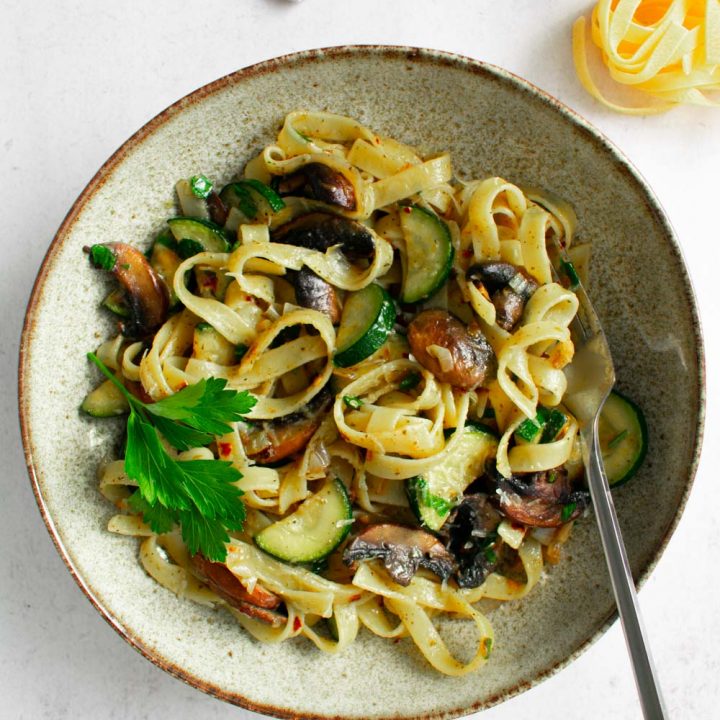 Zucchini and Mushroom Pasta
This delicious Zucchini and Mushroom Pasta is a great 20-minute pasta dinner that requires just a few ingredients. Enjoy this dish with a side of salad to make it more nutritious.
Ingredients
7 oz. Tagliatelle Pasta
2 medium Zucchini, sliced
1 cup Baby Bella Mushrooms, sliced
1/2 Onion, sliced
4 tbsp. Pesto
1/4 cup Parsley, chopped
1 tbsp. Olive Oil
1 tsp. Red Pepper Flakes
1 tbsp. Salt
1 tsp. Black Pepper
Parmesan Cheese (optional garnish)
Instructions
Bring water to a boil in a medium-sized pot over high heat. Add salt and follow with the pasta. Cook the pasta according to package instructions, not a minute more or less.
Halfway through the pasta, put a skillet over medium heat then add the olive oil. Add sliced onions, mushrooms, and zucchini into the oil to start sauteeing.
Allow them to fry for 3 minutes stirring occasionally.
Next, add red pepper flakes, a pinch of salt, and black pepper. Add the pesto and chopped parsley. Stir to combine.
Fetch the pasta noodles with a tong into the sauce, stir everything together and serve.
Notes
1. If the pasta seems dry, add a few tablespoons of the pasta water. Stir
2. Spaghetti and linguine pasta will deliver the same results in taste.
Nutrition Information:
Yield:

2
Serving Size:

1
Amount Per Serving:
Calories:

539
Total Fat:

27g
Saturated Fat:

5g
Trans Fat:

0g
Unsaturated Fat:

20g
Cholesterol:

43mg
Sodium:

3717mg
Carbohydrates:

61g
Fiber:

6g
Sugar:

7g
Protein:

18g
Nutritional information is provided as a courtesy only and should be construed as an estimate rather than a guarantee. Ingredients can vary and Kitchen On The Avenue makes no guarantees to the accuracy of this information.